Yacht Suite | 223-280 sq. ft. | Categories S4, S3, S2 & S1

Suite Features:
Each yacht suite features a plush king or queen-size bed made up with the finest linens under an elegant tufted leather headboard. Aside from the spectacular views, other appointments include a bedside iPad and digital directory, a sitting area, and two spacious closets custom-designed with integrated lighting.
Yacht suite bathrooms are adorned with stunning, cutting-edge design. A glass-enclosed rain-shower, striking backlit mirrors over double vanity sinks and natural stone flooring elevate this space to the sublime. Plus, Italian fashion house ETRO bath and shower amenities evoke a new place and a new frame of mind-perfect for new experiences each and every day.
 Deck 2: Category S4, S3 & S2
 Deck 3: Category S1
Owner's Suite | 515 sq. ft. | Category OS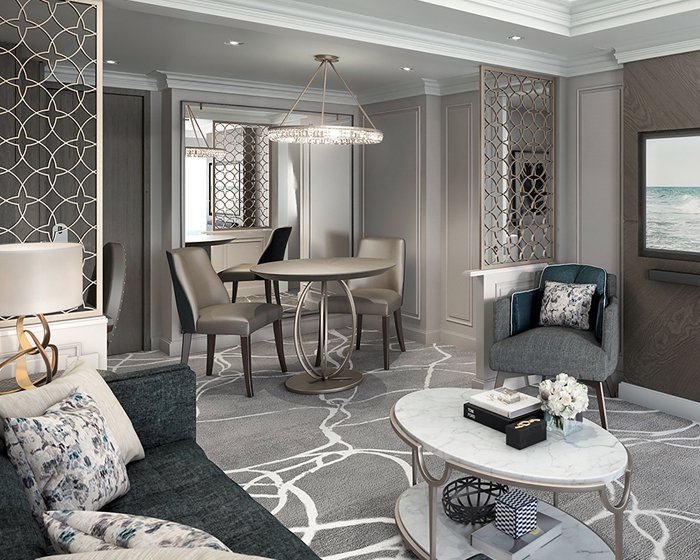 Suite Features:
Indulgently modern and breathtakingly luxurious, the expansive living and dining area features custom metal screen with integrated TV and art, sumptuous sofa and chair with end tables, flat-screen satellite TV, and luxury custom carpet.
Chic and comfortable, the suite's deluxe bedroom boasts king-size bed with Egyptian cotton linens, flat-screen HD TV, custom bench at foot of bed, stone-clad nightstands with integrated outlets, and interactive bedside iPad.
A glass-enclosed rain shower to energize and refresh, double vanity with backlit mirror and integrated TV, and relaxing bath are complemented by luxury touches such as stone flooring throughout and elegant recessed niche lighting.
Anticipating your every need and attending to your every wish, your 24-hour butler will ensure that every detail, large and small, is delivered seamlessly, and always with sincere pleasure.
 Deck 2: Category OS