Le Jacques Cartier
148-Guest Luxury Expedition Ship, Built in 2021
Chartered Exclusively by Abercrombie & Kent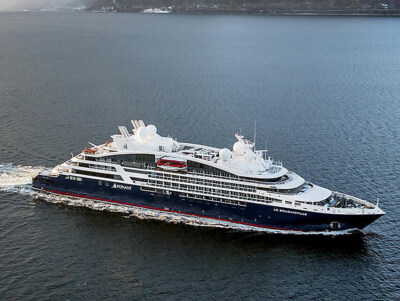 Featuring innovative and environmentally-friendly equipment, elegantly designed staterooms, spacious suites with large windows, and lounge areas that open onto the outside, this new limited-capacity yacht boasting just 92 staterooms and suites will offer you a truly unique cruising experience.
Built in 2021, Le Jacques Cartier embodies a subtle blend of refinement, intimacy and comfort. Aboard this ship that flies the French flag, you will experience the incomparable pleasure of an intimate cruise, while exploring with a chic ambiance and luxury service. Experience a luxurious setting where the accent is on authenticity and passion for travel.
Located below the waterline, the Blue Eye, the first multisensory lounge, offers a unique experience: enjoy the underwater view and listen to the sounds of the sea while sharing a drink.