5-Night Jordan and Petra Pre-Tour
September 27 – October 2, 2021
Explore ancient ruins and rock-cut masterpieces on this 5-night pre-tour extension in Jordan. Thousands of years of history are yours to uncover as you wind your way through destinations brimming with archaeological wonders, mountainous landscapes and ancient ruins. This insightful discovery will open your eyes to the magnificence of this not-to-miss country!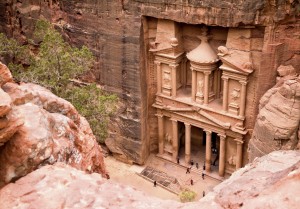 Pre-Tour Package Price:
Double Occupancy: $2,749 per person
Single Occupancy: $3,548
Deposit: 10% of total package
Package Inclusions:
Package includes 5 nights accommodation, 4 days of excursions, daily breakfast, 4 lunches, 1 dinner, transfers, transportation, flight from Amman to Cairo, gratuities, taxes, porterage, and the assistance of a Uniworld Tour Manager.
Accommodations:
St. Regis Amman, Amman, Jordan (or similar) | 3 Nights
Opening in June 2019, the St. Regis Amman boasts a pre-eminent address in the heart of Jordan's distinguished capital. Historical sites, ancient artifacts, shopping, and embassy affairs are located within a short distance of this lavish retreat. Guests are welcomed by the traditions and customs of the St. Regis legacy. Marvel at the finest restaurants, bars and cafés and shop at exclusive boutiques. Within a magnificent 16-story tower, 258 guestrooms and suites delight with breathtaking views, contemporary designs and intuitive amenities, complemented by uncompromising service.
Mazayen Camp, Wadi Rum, Jordan (or similar) | 1 Night
In the heart of Wadi Rum's majestic desert, the Mazayen Camp offers serenity, high standard services, amenities, and a wide range of relaxing and adventurous recreational activities to choose from, including camel rides, buggy rides, hiking, and mountain climbing. Stay in a signature Martian Dome with private bathroom and terrace, perfect for star gazing in the remote desert. The camp is equipped with a large reception tent with Wi-Fi along with the dining area where guests are offered freshly cooked meals with variety of dishes to choose from.
Al Manara – The Luxury Collection, Aqaba, Jordan (or similar) | 1 Night
Reminiscent of a majestic palace, Al Manara guards the mouth of Jordan's Saraya Lagoon, embracing more than 6,000 years of the region's enigmatic history. Located on the shores of the Red Sea and set against the rugged backdrop of the expansive granite mountain range, the hotel is exceptionally appointed and has private sandy beaches where guests can relax and enjoy the year-round temperate climate. Al Manara is an intimate retreat that combines design and history, reflecting the ancient city of Aqaba, giving it an authentic and enriching Jordanian character. The luxuriously furnished 208 guestrooms have each been styled with indigenous accents and distinctive hallmarks.
Pre-Tour Itinerary:
Monday, September 27, 2021 | Amman, Jordan
Upon your arrival at Queen Alia International Airport, you'll be greeted by a Uniworld representative and transferred to the St. Regis Amman.
Overnight at St. Regis Amman
Tuesday, September 28, 2021 | Amman, Jordan
After breakfast at the St. Regis this morning, enjoy a panoramic Amman city tour passing notable sites such as the citadel, a 6,000-seat Roman amphitheater, and downtown. Continue to the Iraq Al Amir Women's Cooperative, where local women share crafts and skills like weaving, paper making, ceramics, and cooking. Workshop with the women to make organic paper from plant materials or paper bowls from recycled paper.
The tour continues to the ancient city of Jerash, which has been inhabited since the Bronze Age. As one of the original 10 great Roman cities, Jerash is now the site of one of the best-preserved Roman provincial towns in the world. After being hidden for centuries in sand and only uncovered in recent decades, the preserved Roman town features some of the finest examples of colonnaded streets, soaring hilltop temples, beautiful theaters, spacious public squares and city walls pierced by towers and gates—all of which you'll see on today's tour.
Overnight at St. Regis Amman (B, L)
Wednesday, September 29, 2021 | Petra, Jordan / Wadi Rum, Jordan
The "Red Rose City" of Petra beckons today, with its massive red mountains and vast mausoleums. You'll enter the city through the Siq, a narrow walkway that's flanked by colorful towering cliffs on both sides. As you reach the end, you'll witness the stunning Al-Khazneh, one of the most intricate and iconic temples in the city. Then, you'll enter the indescribable Petra Valley, with its overwhelming natural beauty and outstanding architectural achievements—there are hundreds of elaborate rock-cut tombs with intricate carvings. Here also sits a vast Nabatean-built, Roman-style theater—and high above rests the impressive Ad-Deir Monastery, accessible by a flight of 800 rock-cut steps.
Spend the night in the Wadi Rum desert at Mazayen Camp.
Overnight Mazayen Camp (B, L, D)
Thursday, September 30, 2021 | Wadi Rum, Jordan / Aqaba, Jordan
After breakfast, begin this morning with a jeep tour inside Wadi Rum desert, a timeless place, virtually untouched by humanity. Ride past wind-carved towering rocks, canyons, and 4,000-year-old rock drawings. Later, arrive at the Al Manara hotel in Aqaba. Enjoy an afternoon at leisure to explore, shop, or relax on the beach.
Overnight Al Manara – The Luxury Collection (B, L)
Friday, October 1, 2021 | Aqaba, Jordan / Dead Sea / Amman, Jordan
After breakfast, depart Aqaba to the Dead Sea – at 1,300 feet below sea level it is the lowest place on earth. Jordan's Dead Sea coast is one of the most spectacular natural and spiritual landscapes in the world, and it remains as enticing to international visitors today as it was to kings, emperors, traders, and prophets in antiquity.
In Madaba, Jordan, visit St. George Church, a Greek Orthodox church built over a 6th-century Byzantine church. The church houses the remains of the Madaba Mosaic Map, the oldest map of Palestine in existence. Continue to Mount Nebo, one of the most revered holy sites of Jordan, said to be the burial place of Moses, before heading to the St. Regis Amman.
Overnight St. Regis Amman (B, L)
Saturday, October 2, 2021 | Depart Amman, Jordan / Fly to Cairo, Egypt
Today, you'll check out of your hotel and transfer to the Queen Alia International Airport for your flight to Cairo, where you'll embark on your Splendors of Egypt & the Nile cruise/tour.
(B)